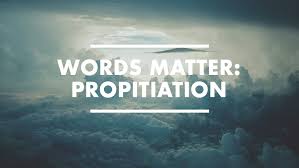 Maybe you heard about the First Grade Sunday School teacher who one morning sat down in front of his class and said, "Today, students, we are going to talk about 'propitiation.'" Needless to say, he did not keep their attention for very long. My guess is that even if they had been Senior Adults, that particular topic would not have electrified the class. It's fair to say, most Christians have no idea what that word means (do you?), and some cannot even pronounce it. In this article we are going investigate what is meant by propitiation, and discuss why it is important in Christian theology.
First, let's define the term. Webster's New Collegiate Dictionary (1973) defines the word "propitiate" as, "to gain or regain the favor or goodwill of." It defines "propitiation" as "1: the act of propitiating; 2: something that propitiates: specif: an atoning sacrifice." As we will see, that last phrase has particular significance for biblical doctrine.
Of course, the New Testament was written in Koine Greek, not English. The term commonly translated as "propitiation" is hilasmos (in various grammatical forms depending on the context). It is found translated as "propitiation" only in three places in the King James Version (KJV) New Testament:
Romans 3:25
Whom God hath set forth to be a propitiation through faith in his blood, to declare his righteousness for the remission of sins that are past, through the forbearance of God;
1 John 2:2
And he is the propitiation for our sins: and not for ours only, but also for the sins of the whole world.
I John 4:10.
Herein is love, not that we loved God, but that he loved us, and sent his Son to be the propitiation for our sins.
The New American Standard Bible (NASB) and the Holman Christian Standard Bible (HCSB), in addition to the verses above, also translate it that way in Hebrews 2:17: Therefore, He had to be made like His brethren in all things, so that He might become a merciful and faithful high priest in things pertaining to God, to make propitiation for the sins of the people (NASB). For some reason the KJV translators rendered it as "make reconciliation" in this verse.
In those verses, the term emphasizes the concept that Jesus' death on the cross was to satisfy the righteous wrath of the Holy God in order to make atonement for the sins of mankind. As the great Baptist theologian W.T. Conner put it, "Paul expresses it by saying that God's wrath was revealed against sin (Rom. 1:18). This wrath of God expresses itself in the condemnation of sin. This condemnation is the thing that necessitates justification, and the ground of justification is Christ's propitiatory work (Rom. 3:19)." (Walter Thomas Conner: Christian Doctrine, Nashville: Broadman Press, 1937, p. 174).
In other words, Jesus' atoning death was to satisfy the righteous judgment of God on sin. As Paul says, "For the wrath of God is revealed from heaven against all ungodliness and unrighteousness of men who suppress the truth in unrighteousness" (Romans 1:18 NASB). The point being that someone had to pay the righteous sacrificial price to redeem lost humanity. We were, and are, incapable of paying it ourselves.
This concept was foreshadowed in the sacrificial system of the Hebrews going all the way back to Abraham's sacrifice of a ram on Mount Moriah (instead of his son – see Gen. 22). It was refined and codified in the Law of Moses (see: Lev. 1:13-17; 3:1-17; 4:1-5:13; 5:15-6:6; 16:1-34).
As Conner remarked, "The death of Christ, then, was propitiatory. His death was propitiatory in the sense that in his death Christ endured the righteous judgment of God upon man's sin. Paul says that God set him forth as propitiatory in his blood (Rom. 3:25). John says that he is the propitiation, not only for our sins, but for the sins of the whole world (1 John 2:2). The Book of Hebrews says that as a faithful high priest he makes propitiation for the sins of the people (Heb. 2:17)" (Conner, Christian Doctrine, p. 175).
Now, that being said, if you have some other translations you may notice that the same word (hilasmos) in the verses listed above is translated as "expiation." Translations that use that term include the Revised Standard Version (RSV- National Council of Churches), and The New American Bible (Revised) (NABR- Roman Catholic). That rendering, however, lessens or softens the point that Christ's death was to avert the wrath of God by a sacrificial death. Rather it emphasizes the removal of guilt by a covering of sin. The argument used was that "propitiation," in pre-Christian pagan religions, meant the bloody appeasement to gain the favor of the gods. Some theologians felt that such a concept should not be applied to Jesus's atonement. This difference led to some conflict among theologians in the late 20th century. As Wayne Gruden explains, "Under the influence of scholars who denied that the idea of propitiation was in the New Testament, the RSV translated hilasmos as 'expiation,' a word that means 'an action that cleanses from sin' but includes no concept of appeasing God's wrath" (Wayne Gruden: Systematic Theology. Grand Rapids: Zondervan Publishing House, 1994, p. 575 [footnote 13]).
In recent years, newer translations are opting to use neither "propitiation" or "expiation" to translate hilasmos. For instance, the New International Version and the New Revised Standard Version translate it as "sacrifice of atonement."
A very new version, The Christian Standard Bible (CSB), published by B&H Publishers (LifeWay), and a revision of the HCSB, will be available for sale in March 2017. (It is already now visible online at http://read.csbible.com.) That version now renders hilasmos as, "an atoning sacrifice." However, wherever it appears in the text, the CSB footnotes it as "propitiation." It may be that the CSB editors felt that "propitiation" was a somewhat archaic term for most people today to understand, so they substituted a phrase easier to comprehend by modern readers. Nonetheless, it is clear they prefer the full meaning of the term "propitiation" over the alternative of "expiation."
Now, this may seem like splitting hairs over Bible translations, but it does matter theologically. Certainly, Jesus death does remove the guilt by His covering our sin for our reconciliation. Nonetheless, His death also was necessary to satisfy the righteous wrath of a Holy God against the sin of humanity (propitiation). The argument that the word is too close to what pagans practiced is overstated by those theologians objecting to its use.
So, First Grade Sunday School teachers will be, to say the least, exasperated if they try to address the doctrine of propitiation with their young students. Nonetheless, evangelical pastors and youth or adult Bible teachers should, at appropriate points, examine the biblical perspective on this theological issue. Perhaps we don't need to use that very word, but we dare not diminish its full meaning no matter what we call it.
© 2017 Tal Davis
Related Articles
Share
About Author
(0) Readers Comments