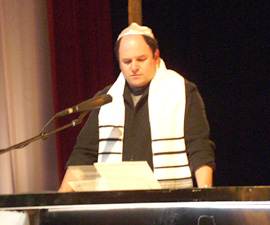 What if you asked a person, "Are you a Christian?"
"Yes," she answered.
"So what do you believe about Jesus?" You continue.
"He was one of the greatest men who ever lived. He was a great moral teacher who championed human rights and the poor," she replies.
"Do you believe He was the Son of God?"
She shrugs, "I don't really believe in God. I believe in the spirit of nature and human brotherhood."
A Christian who does not believe in God or that Jesus was His son? So, would most Christians say that the woman above is really a Christian? Certainly not by any historic definition.
But what about Jewish people? Would a Jew who said she did not believe in God still be considered Jewish by other Jews? According to a recent poll by the Pew Research Center of adults identifying themselves as Jewish Americans (about 5.3 million) have a wide variety of religious beliefs.
According to the survey, 35 percent identify themselves as followers of Reform Judaism, the most liberal and least traditionally observant of the three major branches of organized Judaism. 18 percent say they are practitioners of Conservative Judaism, a branch that is more traditional than Reform.  Only 10 percent identify with Orthodox Judaism, the most conservative and traditional group.  Only about one-third belong to an organized synagogue of any kind.
Actually, the fastest growing segment of Jews are the 25 percent who identify themselves as "having no religion" or do not believe in God at all. For them, being Jewish is an ethnic or cultural heritage.  The survey said that the most important factor for Jewish identity today is remembering the Holocaust.
The remarkable thing is that most Jewish people are entirely comfortable recognizing other Jews as fellow Jews whatever their beliefs or lack of beliefs may be. The one exception is that a large majority of Jews will not acknowledge a person who has accepted Jesus as his or her Messiah as a fellow Jew.  It was surprising, however, when the survey revealed that 34 percent now do accept Jewish believers in Jesus as fellow Jews.
In my opinion that is a positive trend. Historically, Jewish believers in Jesus have endured rejection and scorn from fellow Jews. Perhaps this data indicates a growing willingness of Jews to accept the fact that one can remain Jewish and embrace Jesus as his or her Messiah.
For more on the survey go to: http://www.christianitytoday.com/gleanings/2013/october/pew-research-portrait-american-jews-jesus-humor-messianic.html
Related Articles
Share
About Author
(0) Readers Comments