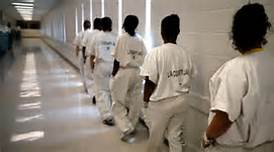 Dateline California. Doctors, under contract with the California Department of Corrections and Rehabilitation have sterilized nearly 150 female inmates in four years without required state approval. Some of the women were strongly pressured or even tricked into signing off on the procedure.
As gross as this is, and in spite of the fact that California authorities seem to be horrified, it is hard for me to be in the least bit surprised that this has happened. It is so logically an expression of the naturalistic worldview that is so prevalent in the governmental institutions of California.
When we consider the topic of worldview, the first things we generally think of are the religious implications of the beliefs. That is because a worldview system is a belief (faith) system. Those Atheists who strongly assert that they are not religious simply do not understand the nature of their worldview beliefs.
But beyond the expression of faith comes the way it is expressed in daily life. Naturalism is the belief that no supernatural reality exists. As such, human beings are nothing more than animal creatures with a highly evolved brain, and there exists no such thing as an objective, transcendent ground for moral behavior. Thus, it is not surprising when some in positions of power look at a particular group of these human animals who have behaved in a way which requires that they be put in cages, and decide that they should not be allowed to breed anymore because the state will have to spend more in welfare payments.
Here is the problem. While state authorities are expressing outrage at this situation, they are the ones who have established Naturalism as the primary worldview stance of the state. Their "moral outrage" is completely arbitrary. The promotion of naturalistic beliefs is prominently found in all three branches of the government. The executive branch refuses to defend duly enacted law in court and, in fact, encourage the states various political units to ignore it as well (see the California marriage amendment). The legislative branch continues to pass more and more laws which encourage abortion, expand the influence of homosexual activists, and which run up debt in order to further an ideological agenda. Those in the judicial branch ignore the law and even their own rules to promote personal moral beliefs. All of these things are based on the beliefs of Naturalism.
As I said before, how can anyone be surprised when a practice like what happened in the California prisons occurs. The fruit of naturalistic worldview beliefs is futility and human destruction. Naturalism ignores the existence of God and the objective moral absolutes which he has revealed. When the ultimate goal in life is to advance personal pleasure and the survival of the species based on the perceptions of the ruling class, this is what you get.
Related Articles
Share
About Author
(2) Readers Comments