Here is the gist of two stories which made national news this week.
A New Jersey high school teacher is under investigation after posting a message on her private Facebook page that she opposed homosexuality because of her Christian faith. Homosexual rights activists are advocating for her removal from teaching. Even the governor of the state has chimed in to condemn her.
A public high school in Connecticut staged a homosexual themed play for its students without giving notice to parents or students ahead of time. The principle of the school said told a newspaper that he had no regrets about making the students participate even though a large number of people objected to it because of their faith.
What do both of these stories have in common? Well, the most obvious is that both deal with homosexuality. But that is not really the main concern for Christians. The biggest issue both have in common is that a non-Christian worldview has become so dominant in American society that Christians cannot speak their beliefs in the public square with being persecuted.
I picked these two stories simply because they were published most recently. But the number of incidents which fall into this category is staggeringly large and increasing. There is a loud and growing constituency in places of political and social influence who operate based on non-Christian worldview beliefs and they are determined to quash their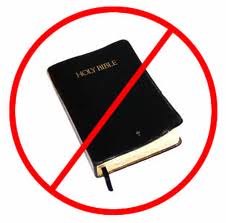 Christian competitors. As Christians, it is important for us to treat everyone with respect. But this does not mean that we have to check our beliefs at the door by accepting immoral lifestyles in order to do it.
In order to combat this growing trend, there are two things that Christians must do. Both of these are essentials if we have any intention of turning things around. It cannot be done if large numbers of Christians don't get serious about it.
First, we must get up to speed on the issues at hand. More than anything else, this means getting serious about laying down a solid foundation on the basics of worldview. Without this we can oppose those who hate us, but it will only end up being two voices shouting at one another. We must not only know what we believe, but why we believe it and why it is the truth. MarketFaith Ministries specifically trains Christians in this arena.
Secondly, we must actively share our faith. This one is quite dependent on the first. We can't effectively share with others if we don't know what is wrong with their beliefs and what is right with ours. But beyond knowing, we have to take the actual steps to share our faith.
If Christians don't begin stepping up to the plate, it will not be too long before we find ourselves under even wider persecution.
Related Articles
Share
About Author
(4) Readers Comments