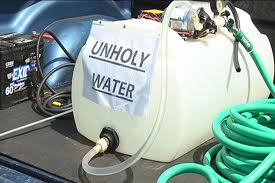 Sometime last year, a coalition of Christian groups in Polk County, Florida got together and called themselves Polk Under Prayer (PUP). They decided to bless the Pasco-Polk county line along Highway 98, so they gathered and poured some anointing oil on the highway and prayed for the county. According to the group's leader, they did it so that "God would protect us from evildoers, mainly the drug crowd, that they would be dissuaded to come into the county."
Now, personally, that is not something I would normally participate in, but I don't have any problem with this, or any other, group gathering and expressing their beliefs – even groups that I don't agree with. I may express my opinion about the actions of a particular group as a means of witnessing to what I believe, but I wouldn't feel compelled to do so in a way which was a "put-down" to the individuals in the group. There is a great difference between putting people down and expressing disagreement with their views. In the case of PUP, their actions were not immoral or illegal. In fact, they actually wanted good for the community and were gathering to pray.
So, what are we to make of a group of atheists with the Humanists of Florida Association and Atheists of Florida who gathered last week armed with brooms, mops and "unholy water" to symbolically remove the holy oil that PUP put on the highway? Personally, I think it is a joke. It seems to me that this is nothing more than a group of bitter people looking to get some publicity.
Maybe it is not so surprising that these atheists are doing all they can to try and put down Christianity and Christians. There is more and more of that going on these days. We see organized groups filing lawsuits to try and eliminate any Christian display in the public square and other groups putting on concerts to "counteract" Christian concerts. On a personal note, it is not unusual for me to receive hateful e-mails blasting me for putting Christian articles on the my ministry website and Facebook page.
Of course, these militants don't represent all atheists. There are many who are content to live and let live. But there is a growing number who are not satisfied that they are able to freely exercise their faith in no God. They feel they must destroy those who do believe in God.
As Christians, there is a right way to respond to this, and the right response is to share the truth about Jesus Christ. God really does exist, he really has revealed himself to us and we can know him in a personal relationship.
People who don't know how to share what they believe and are unable to give evidence as to why their beliefs are valid, have nothing left but to put other people down and throw out insults. Unfortunately, even some Christians fall into this pattern. The right thing to do is to get up to speed so as to be able to share a credible witness. Christ has commissioned us to go into all the world and share the gospel. To do this, we need to know how to share this wonderful message – even with militant atheists. It is a skill worth learning.
Related Articles
Share
About Author
(0) Readers Comments