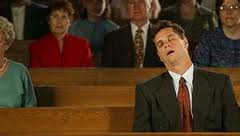 I believe that there are two things which can help individuals stay awake in church. One of these alone is not usually sufficient to power up our faith.
The first is a really interesting speaker. This is motivation from the outside. There are speakers who are particularly good motivators and are able to give such a great presentation that individuals in the audience are kept spellbound. Unfortunately, this may have nothing to do with content. I, myself, have gone away from presentations where I was totally absorbed in the speaker, but later, in thinking back about the message, I couldn't remember a single significant thing that was said.
On the other hand, there are those who are able to deliver great content but are not the most interesting people to listen to. It takes a lot of concentration on the part of the listener to focus on a boring speaker in order to get the great meat that is being offered.
The second thing that can help us stay awake in church is an inner motivation to learn that is so strong that you keep yourself awake to grasp as much as you can. This is motivation from the inside. Unfortunately, there are situations where people are motivated that way, but the speaker only issues empty platitudes. You end up staying awake in anticipation but receiving nothing.
In reality, both the speaker and the listener have a grave responsibility. The speaker is responsible to deliver profound content, in as interesting a way as possible, which will help the listeners to grow in their faith. And the listeners are responsible to be so excited about growing in Christ that they are able to stay focused on the content and actively apply it in life.
Being in a place where both of these are a reality can sometimes be a real challenge. Speakers need to become good at giving a good presentation and providing profound content. Listeners must maintain a powerful desire to grow and develop listening skills which help them get the most out of what they are hearing.
Creating a situation for staying awake in church can be a bit of a challenge, for both speaker and listener. But is what must happen if we are fulfill our greatest potential, and ultimately our calling.
Related Articles
Share
About Author
(0) Readers Comments