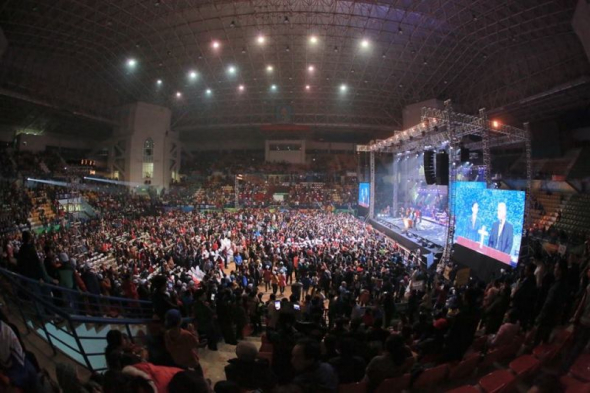 Open Doors is a Christian ministry founded by the late famed Bible smuggler and religious rights advocate Brother Andrew (author of God's Smuggler). Each January that organization releases its list of the worst fifty countries in the world for Christian persecution for the previous year. The 2018 Report is now available online at https://www.opendoorsusa.org/2018-world-watch-list-report/download-2018-wwl-report/
Once again, as it has been for many years, the number one persecutor of Christians in the world is North Korea. That country has been under the most brutal communist dictatorship since its beginning at the end of World War II. Ruled by a Stalinist dynasty of three rulers, including current "Great Successor" Kim Jong Un, it is the most oppressive and belligerent country in the world as recent events have shown. Three other Communist countries also made the list, including Vietnam (#18), Laos (#20), and China (#43). The only other prominently Communist ruled country, Cuba, was not on the list and has not been for a number of years. (Note: Despite its bad religious rights record, evangelist Franklin Graham preached at a rally of more than 10,000 people in Hanoi, Vietnam, in December of last year. Due to the good work of Graham's relief group, Samaritan's Purse, in the nation, Vietnam's Communist government consented to his preaching event. See photo inset)
That being said, however, by far the largest category of countries on the list are those that are predominantly Muslim, either officially or by population. Thirty six of the top fifty persecutors are Islamic. Ten of the top twelve offenders are majority Muslim including: #2. Afghanistan; #3. Somalia; #4. Sudan ; #5. Pakistan ; #6. Eritrea ; #7. Libya; #8. Iraq ; #9. Yemen ; #10. Iran; and #12. Saudi Arabia.
Two predominantly Hindu nations made the list: India (#11) and Nepal (#25). Three Buddhist countries are counted: Myanmar (#24); Bhutan (#33); and Sri Lanka (#44). One supposedly Christian country, Ethiopia, made the list at #29 mainly because of the government's heavy secularist bent. Two other majority Christian countries are on the list because of active Islamic terrorist groups in those lands: Kenya (#32) and Central African Republic (#35). Two predominantly Roman Catholic countries riddled by narco-terrorism targeting churches and other institutions are Mexico (#39) and Colombia (#49).
What can we American believers do? Prayer for the Christians in those lands, of course, is foremost. But we can also support mission organizations working to spread the gospel in closed societies and religious rights groups trying to free up Christian activities around the world.
li
Related Articles
Share
About Author
(0) Readers Comments