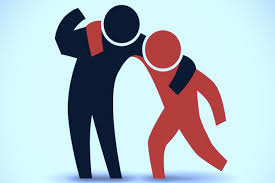 My last two articles in this newsletter concerned principles of loving and helping others. We discussed how often we have opportunities to offer aid to people in our churches and communities. We showed how, as Christians, we must be available to do what we can to offer help to those in need. In this Part 3, we will examine some very practical ways we can offer assistance in Jesus' name.
First, let's review the previous installments. In Part 1 we discussed the spiritual sources and resources we have access to as believers. (http://www.marketfaith.org/2017/09/helping-others-who-me-part-1-the-spiritual-resources-for-helping/) The primary resource we have is, of course, Jesus Christ Himself. He solved, by His death and resurrection, the greatest problem for all of us: Sin. He is also the perfect example of One who loved others and reached out to do good for them. The second resource we can rely on is the Holy Spirit. He is our supernatural source of power for living and serving. The third spiritual source of strength is the Scriptures: the Bible. In its pages God provides the practical spiritual and moral principles we need for caring for people.
In Part 2 we discussed our attitudes for helping others. (http://www.marketfaith.org/2017/09/helping-others-who-me-part-2-time-for-an-attitude-check/) We talked about the need for being filled with the Holy Spirit. We examined why we should be filled with God's love. We also showed the need to be praying for others in need.
In the third installment of this series, we will look at practical ways to help others deal with their problems. We need to remember that we cannot solve their problems for them. In most cases, people need to find solutions for themselves. Nonetheless, we can suggest two helpful and practical steps for guidance.
Step one is that we help them deal first with the spiritual nature of the problem. This involves three elements. First is to use Scripture to find solutions to address their needs.
"You, however, continue in the things you have learned and become convinced of, knowing from whom you have learned them, and that from childhood you have known the sacred writings which are able to give you the wisdom that leads to salvation through faith which is in Christ Jesus. All Scripture is inspired (God-breathed) by God and profitable for teaching, for reproof, for correction, for training in righteousness; so that the man of God may be adequate, equipped for every good work" (I Timothy 3:14-17).
We might ask, "If the Bible is an effective tool for dealing with issues of life then, what good is it if we don't know what it says?" Unfortunately, most Christians only know a half-dozen or so Bible verses by heart. They usually include John 3:16; Matthew 28:19, 20; the 23rd Psalm; and the Lord's Prayer (Matt. 6:9-13). Some older believers may also know Romans 3:23; 6:23; and Ephesians 2:8,9. Those are certainly key Scriptures for Christians to have committed to memory. But if those are all the biblical passages a Christian can recite, then she is missing out on knowing many of the promises and truths the Bible contains.
A second way to address the spiritual aspect of people's problems is to call sin "SIN." In many, if not most, instances, the root of peoples problems is found in their disobedience to God's will. Obviously, sin not a term people are comfortable with today. No one likes being called a sinner. But part of the reason is that sin is often misunderstood. The New Testament uses several different Greek words that are translated "sin."
One Greek word for sin is harmartia. Have you ever shot a bow and arrow or fired a gun at a range? I have a cousin whose husband shoots and sells compound bows. Those are complex metal bows that shoot arrows with powerful force. So, what doe he aim at? A target of course. He tries to hit to the bulls-eye (which he almost always does). Harmartia literally means "to miss the mark or target."
Another word used for sin is parabasis. Maybe you have been out hiking or hunting and seen a sign reading, "Posted – No trespassing!" You would probably be wise to obey it. If you violate it, you could be arrested or even shot. Parabasis means trespassing against God.
Other Greek terms translated as sin include, ananomia (lawlessness or iniquity), poneria (evil or wickedness), and adikia (unrighteousness). No matter which kind of sin is used, they all have the same result: separation from God. So, the most important help we can give to anyone is to tell her how to seek God's forgiveness.
Jesus explained this principle in two parables He shared in response to criticism of Him socializing with "sinners."
Now all the tax collectors and the sinners were coming near Him to listen to Him. Both the Pharisees and the scribes began to grumble, saying, "This man receives sinners and eats with them." So He told them this parable, saying, "What man among you, if he has a hundred sheep and has lost one of them, does not leave the ninety-nine in the open pasture and go after the one which is lost until he finds it? When he has found it, he lays it on his shoulders, rejoicing. And when he comes home, he calls together his friends and his neighbors, saying to them, 'Rejoice with me, for I have found my sheep which was lost!' 'I tell you that in the same way, there will be more joy in heaven over one sinner who repents than over ninety-nine righteous persons who need no repentance." Or what woman, if she has ten silver coins and loses one coin, does not light a lamp and sweep the house and search carefully until she finds it? When she has found it, she calls together her friends and neighbors, saying, "Rejoice with me, for I have found the coin which I had lost!" "In the same way, I tell you, there is joy in the presence of the angels of God over one sinner who repents." (Luke 15:1-10)
So we need to start with the spiritual nature of people's problems. Only through trusting in Jesus as Savior and Lord can they deal with the greatest problem of all, sin.
Step 2 is to follow the formula below for helping people find practical solutions to their problems so they can make wise decisions about how to deal with them.
Here are eight practical points to use to help someone in this process.
(1) Pray with her about the problem. This will demonstrate to her your confidence in God's provisions. If she hears your faith expressed verbally it may enhance hers.
(2) Listen carefully to her explanation of the problem. Let her tell it as she sees it, no matter how confusing it may sound.
(3) Help her then define and simplify the problem. Sometimes when people clarify things, they see them in totally different, and less threatening, ways.
(4) Help her list alternative actions and possible solutions. Even encourage her to write them down.
(5) Suggest Biblical options and principles to her when possible. Take time to search the Scriptures for what they may say about a specific issue. A Bible concordance, dictionary, or topical index may be helpful in this regard.
(6) Pray once again with her for the Holy Spirit's guidance. Once the problem has been clarified and the Bible consulted, get her to pray for wisdom from God's Spirit. If she is not a Christian, you may need to take time at this point to share the Gospel with her as discussed above. If she does not want to accept Christ, still try, as best you can, to help her deal with her concerns.
(7) Once you have been through the above process, let her decide what course of action to take. Do not make the decision for her. She needs to own whatever decision she makes.
(8) Encourage her to act on her decision in faith that God will guide her. Again, you may want to address the deeper spiritual issues that often trigger predicaments in people's lives.
In this three part series we discussed ways we can help people in their times of need. We know God will answer and provide solutions to the problems of life. As believers, we are capable of helping others and demonstrating God's love to them.
© 2017 Tal Davis
Related Articles
Share
About Author
(0) Readers Comments