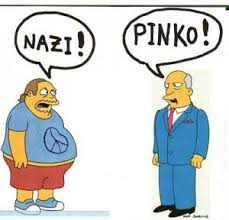 Should Christians be liberal or conservative? That is a question that could legitimately be answered a lot of different ways. But before we can fully answer it, there are several things that must be determined.
In common parlance, the terms liberal and conservative are primarily understood as political designations. But even with that, what it means to be liberal or conservative will vary according to the situation.
In a generic sense, a conservative position is one that clings to (conserves) the status quo. It wants to keep things the way they are. A liberal point of view, on the other hand, is one that wants to change (liberate) the statue quo and create a different dynamic. Thus, the meaning of the two terms depends on the nature of the status quo. What is called liberal and conservative in one context can be very different in another. In fact, what is called liberal in one place might be considered conservative in a different situation, and vice versa.
In American society, the conservative point of view is based on the attempt to hold on to the principles of our founding. These founding principles were expressed, particularly, by such Christian ideals as life, liberty, pursuit of happiness (property rights), freedom of conscience, freedom of expression, the primacy of the individual, and the like. These Christian ideals are understood to be derived from an absolute transcendent source – specifically, the teachings of the Bible.
Liberalism, in modern American society, has its basis in naturalistic beliefs. These beliefs are relativistic in nature, don't acknowledge God, focus on the collective (as opposed to the individual) and are governed by the whims of those who are able to hold power.
Before we go any further, let's make a general statement about our original question: Should Christians be liberal or conservative? While it is inevitable that virtually all Christians will make political determinations for their own lives, that should not be the starting point. First and foremost, a Christian should be biblical. We should not start with political principles and shape our lives around those. Rather, we should start with the Bible and shape our political thoughts from it. In other words, to the degree American conservatism aligns with what the Bible teaches, we should be conservative – and the same applies to liberalism.
Based on the source of American conservative values (the Bible), Christians will naturally tend in that direction. The founding principles of American society were decidedly biblical. That said, over the years since the founding, we have gotten off track in many ways. Naturalistic beliefs have infiltrated all of society's institutions, and much of what has become the modern status quo is decidedly not Christian. There are way too many cases where:
∙ the rule of law is not upheld
∙ justice is not equal for everyone
∙ political expediency trumps what is right
∙ life is devalued
∙ liberty is pinched
∙ property rights are not honored
∙ freedom of conscience is abridged, and
∙ freedom of expression is suppressed.
Taking this a step deeper, as Christians, our focus should be on the biblical foundation rather than the political expression. It is very possible to have the right expression based on the wrong foundation. And when that happens, we are one step closer to tyranny. For example, when a government executive or judicial officer goes outside the law to try to make something "fair," it becomes anything but fair as the rule of law is trampled. That is because, if it can be trampled in one instance, there is precedence for trampling it anywhere – based strictly on the personal opinion of the person making the decree. This example is but a single illustration that applies across the board: "right expression" based on wrong principle leads to wrong.
Based on Christian beliefs, motive is even more important than an outward expression. The reason for that is that expression always emerges out of motive. People who have the right expression for the wrong motive can use the "right" actions as a means of oppressing people rather than for promoting justice.
We are blessed to live in a country which had founding principles based on biblical precepts. But if we continue to allow those principles to be supplanted by naturalistic beliefs, as has been happening increasingly over the last century, we will soon find ourselves in an environment where we are no longer free to express our Christian faith in public.
© 2016 Freddy Davis
Related Articles
Share
About Author
(6) Readers Comments