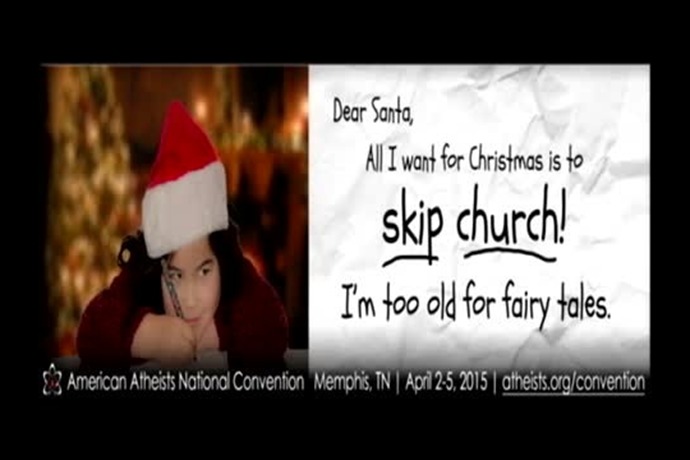 Well, it has happened again this year. American Atheist organizations have once more resorted to putting up billboards to try and disparage Christians and Christianity. This year they are focusing on the Tennessee cities of Memphis, Nashville, and St. Louis, as well as Ft. Smith, Arkansas. (Jackson, Mississippi billboard companies refused to give them space.) The one that is gaining the most notice this year has a picture of a cute little girl writing a "Dear Santa" letter which says, "Dear Santa, All I want for Christmas is to skip church! I'm too old for fairy tales."
When this first started happening several years ago, I must admit that it got my dander up just a little. But I don't feel that way anymore. Rather, I feel sadness and pity for these folk that the feel the need to put down other people's beliefs in such a patronizing way. They are not merely trying to promote their own beliefs, which I could actually understand since I want to share my beliefs with them, as well. But instead of promoting their beliefs, they have resorted to insult as they attempt to put down the entire Christian population. I find that rather sad. Thinking about this, there are three observations that can be made about what they have done.
First of all, these Atheists must be very bitter people. That alone makes me pity them. I'm sure they would be angry at me for making this observation and would deny that sentiment in the strongest terms. But what else can one conclude? Anytime someone goes out of their way to put down other people because of their beliefs, it comes from ugly motives. Making a logical case for one's own beliefs is a very different matter than putting other people down condescendingly and without any evidence to support their own position.
A second observation that jumped out at me is: Since when do Atheists believe in Santa Claus? Of course they don't, even though the advertising is using the motif of a little girl writing to Santa. In fact, in past years they have even compared Jesus with Santa in an attempt to say Jesus is a myth. This only goes to show more clearly the malicious intent of the advertising campaign.
My third observation is that their attack is misguided because they really don't understand the nature of their own beliefs. The truth is, Atheism is a religious point of view. There is no science at all to back up the central tenets of atheistic belief. In effect, what they are trying to do is make their own faith more prominent in the culture at the expense of Christianity. Essentially, they are trying to substitute one religion with another.
The reason these Atheists are attacking Christians in such a hateful way is because they are religious zealots. They are trying to push the Christian faith out of the public square so they can have their own beliefs in control without opposition.
As we approach the Christmas season, our desire, as Christians, should be to share the love of God with those who don't know him. Rather than getting mad at these militant Atheists, we should express love and compassion toward them. We can do this as we attempt to help them understand the truth of how God came to earth as a man in order to provide a way for them to know him.
Related Articles
Share
About Author
(5) Readers Comments