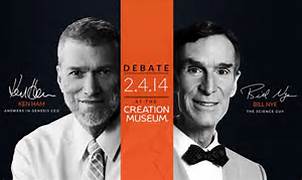 On Tuesday, February 4, 2014, Bill Nye the Science Guy and Ken Ham, the leader of Answers in Genesis and founder of the creation museum, had a debate. This was another one of those Atheist vs. Christian debates. The topic of the debate was: Is creation a viable model of origins in today's modern scientific era? (If you are interested in see the debate for yourself, it is up on YouTube at: http://www.youtube.com/watch?v=6mAyBwhiAJ8.)
While most people consider that this is another one of those science vs. religion debates, it was not. Rather, it was about Naturalism vs. Christian Theism. It was not a science debate, it was a worldview debate.
One of the things that personally sticks in my craw is when people try to equate Naturalism with science. Naturalists, naturally, don't understand the distinction because they, out of hand, dismiss the possibility that anything exists outside of the material universe. The truth is, though, science is a methodology and Naturalism is a belief system. As Ham pointed out over and over again (and Nye never grasped), Christians can use the scientific method just as well as any Naturalist.
What was interesting to watch during the debate was that Ham understood the distinction between the two. Nye was clueless. Time and time again Nye spoke as if science and Naturalism were the same thing. And when Ham explained the distinction, it went right over Nye's head.
This debate was a perfect illustration of why worldview understanding is so critical. Without the ability to differentiate based on worldview, Nye simply could not grasp why his beliefs are not valid. He kept insisting that Ham prove his Christian faith using naturalistic presuppositions while, at the same time, he made his own faith assertions and didn't even realize that those assertions were based on faith. He truly believes that naturalistic presuppositions are based on science.
Folks, Nye is greatly respected in the scientific world and his point of view is in what could be considered the mainstream of modern academia. The truth is, virtually all of those who share his naturalistic beliefs have the same total lack of understanding about the faith nature of their own worldview system.
As Christians, this is the challenge we face. People only understand reality in terms of the worldview presuppositions they know. And a very large percentage of the people in America hold worldview beliefs which cause them to believe the Christian faith is a fantasy. If we ever have any intention of impacting the world for Christ, we are going to have to get serious about understanding how to bridge that gap. Simply sharing the gospel message is not enough. These Naturalists literally think that those who believe in God believe in a fairy tale. We have to be able to show them how their belief is the one that doesn't match reality. And we can't do it if we don't understand the concept of worldview.
Christian discipleship training has always been important, but it has never been more important for us than it is now. And worldview training must be a part of it. In the past, it was mostly missionaries going into places where people held other worldview beliefs who had the need to grasp this topic. Now, America is dominated by non-Christian worldview beliefs. Every Christian needs this training.
Bill Nye, the Science Guy is not simply a strange curiosity – he swims in the mainstream. If we want to reach the mainstream for Christ, we are going to have to get serious about learning how to express the truth in ways which can be understood by the people who swim there.
Related Articles
Share
About Author
(3) Readers Comments