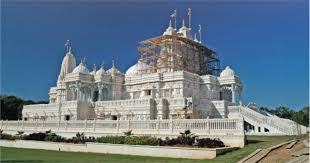 Sacred and holy ground is found in Georgia? It is according the local Atlanta, Ga., channel 11 Alive news team. This morning (Friday, August, 2), 11 Alive broadcast its early morning wakeup show from the town square of the Atlanta suburb of Lilburn, a community of about 12,000 residents.  Though Lilburn is a small municipality, it is located in the heart of Gwinnet County one the state's largest metropolitan counties of about 800,000.
The broadcast featured some of the local color of Lilburn and its surroundings. Local artists, musicians, school children, etc. appeared on camera to exhibit how the town is an All American city. But right in the middle of the program the 11 Alive Team dropped a worldview bombshell. They showed a short segment of what they regarded as one of Lilburn's most impressive and awe inspiring edifices. The segment was titled "Lilburn is Home to Sacred Ground" (click to see the report online).
For several minutes the show focused on the largest Hindu temple in North America located in, yep, Lilburn, Ga. (see pictured above).  The huge building is covered with elaborate carvings done right into the exterior by specially trained artisans from India. I understand it took more than ten years to complete the construction.
So what does this mean and how does it relate to worldview? It is significant for several important reasons. For one, it demonstrates the growing cultural and religious diversity in the United States. Thirty years ago no one would have ever imagined that there would be enough Hindus in Georgia to have raised the money to buy the land and pay for the construction of a temple of that scope.
Second it should be of great concern that America is now welcoming to what can only be regarded as pure pagan idolatry. Hindu temples, I have toured several of them around the country, are full of literally dozens of idols to honor the hundreds of Hindu deities.  Daily offerings of food, incense, flowers, and prayers are made to the gods by devout Hindu believers. While I certainly respect the constitutional rights of Hindus in America to worship as they please, I do not believe Christians should nonchalantly ignore the fact that false pagan idols are being worshipped only blocks away from churches.
The third reason it is important is that it clearly illustrates how slowly but surely our country has embraced nontheistic worldviews as just as valid as is Christianity or theism. Hinduism is the essence of the Far Eastern worldview and is completely incompatible with Theism or even Naturalism. Anyone who is familiar with the work of MarketFaith Ministries knows how we have done all we can to educate Christians as to how and why various worldviews can and do effect people's and community's lives.  I personally believe, like Paul, that pagan temples, as beautiful as they may be architecturally, are habitations of demons and may exert dangerous influences on a city, state or country where they proliferate.
So, then what can we do? We start by prayer. We ask God (the True God) to empower and equip us to engage in spiritual warfare because that is what it is. Second, we should be more assertive in preaching the Gospel of Christ to Hindus and adherents of other religions who move into our communities.  The increased immigration of Asians to America has resulted in an incredible harvest of souls to Christ. Many immigrants are very open to the Gospel if we will only lovingly share it with them. Perhaps the most significant development in American evangelicalism in the past thirty years has been the rapid proliferation of first and second generation ethnic churches. The rate of new ethnic church starts is far greater than those from traditional American backgrounds.
So while we should be greatly concerned by the growth of pagan religions at our doorstep, we should also rejoice that many new Americans are still finding Christ in this land.  Maybe there is sacred ground in Lilburn but not where 11 Alive News thinks it is.
Related Articles
Share
About Author
(0) Readers Comments