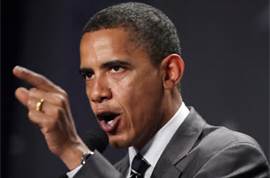 Many people get upset when President Obama's faith is questioned. Some people are disturbed because he claims he is a Christian and they don't think anyone has the right to question a person's faith. Others don't like it because they believe it is obvious that his actions demonstrate Christian principles. Still others get upset because they consider themselves Christians and follow the same basic theology he does.
But all of these defenses ignore the real core of the Christian faith. The definition of what constitutes a Christian is not based on a person's personal claim. Likewise, it is not based on outward acts nor by one's personal theology. The Bible, and it alone, define what it means to be a Christian. And that definition requires that an individual enter into a personal relationship with God based on his grace by faith in what Christ accomplished by his death and resurrection.
At this point, it is not up to me to determine whether or not the president knows this personal relationship with God. However, the Bible is very clear that those who know Christ have changed lives which cause them to act in ways which correspond with what God has revealed. While we cannot be the president's judge, we can inspect the fruit of his life.
For example, on his most recent overseas trip, he went to Northern Ireland. While there he gave a speech where he made the claim that Christian education divides people and blocks peace. He specifically pointed out Catholic and Protestant education as a cause of division and a hindrance to peace. Honestly, this is quite alarming on so many levels. We never hear him saying such things about Muslim education or secular education – which quite often really does teach people to hate and destroy. His only objection is to Christian education.
In fact, as we look at the policies being implemented by the president, virtually everything he is advocating is contrary to Christian teachings – abortion, homosexual marriage, dependance on government, restriction of conscience rights, illegal behavior regarding immigration, and the list could go on.
I cannot be the judge of whether or not President Obama has a personal relationship with God. I can observe, however, that virtually all of the policies he promotes not only run contrary to Christian teachings, but he does all he can to directly suppress Christians who disagree with him. His actions do not seem to support his claim.
Related Articles
Share
About Author
(3) Readers Comments