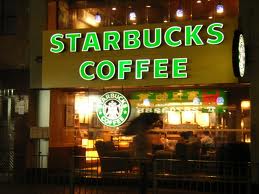 Let me just state up front, I don't consider myself a boycotter. But maybe that is just a matter of semantics. I like to put the emphasis on the positive rather than on the negative. So the end result is that I try to support those businesses which uphold my beliefs which means I do way less business with the ones which work against them. If I need a product or service, I actually consider my alternatives as it relates to this matter and try to select companies which have a biblical worldview. But honestly, the way things are going, it is getting more and more difficult to find businesses which support biblical morality.
Just recently, Starbucks CEO, Howard Schultz, made a statement at their annual shareholders meeting which definitely gives me pause. It seems that one of the shareholders made a complaint about Starbucks' active support of gay marriage. Schultz then told him, "If you feel, respectfully, that you can get a higher return than the 38% you got last year, it's a free country. You can sell your shares in Starbucks and buy shares in another company. Thank you very much." In other words, we are not changing our support and we don't care about your opinion.
Now, certainly, Starbucks is not the only company which actively supports what I believe is an immoral cause. They are right in there with Wells Fargo, Budwiser, Target, J.C. Penneys, Home Depot, Levi's, Microsoft, Abercrombie & Fitch, Amazon, Allstate, Chili's, Applebees, Ben & Jerry's, Coca-Cola, Gap, IBM, Kraft Foods, Marriott Hotels, McDonalds, Morgan Stanley, Nationwide Insurance, PepsiCo, Proctor and Gamble, Red Lobster, Sears, State Farm, Verizon, T-Mobile, Wallgreens, Walt Disney Co., Xerox and many others. And the list is growing.
I don't even know if it is possible to totally avoid doing business with companies which support immoral causes. But I do know this. As Christians we can be salt and light in the world. The reason for the proliferation of immorality is because the number of people choosing to live by a secular faith is greater than the number choosing Christ. This puts an even greater urgency on us to share Christ.
This task is not an easy one in our modern world. The non-Christian forces governing contemporary society are bigger, stronger and more confident than ever before. Without a deliberate effort by large numbers of Christians to get up to speed in how to share a witness across the worldview barriers which exist today, we do not have a chance. It is truly time for Christians to begin getting serious about this task.
The tide will not turn until the number of people who choose Christ radically increases. We cannot expect non-believers to act like believers. I wonder how we will respond.
Related Articles
Share
About Author
(0) Readers Comments