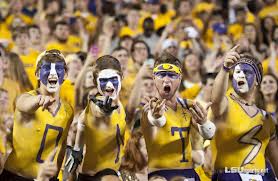 At Louisiana State University (LSU) there is a group of Christian students who are not only committed to Christ, but are rabid LSU football fans. They call themselves the Painted Posse and paint their bodies in school colors (yellow, purple and white) for the football games. As a part of the paint job, they also paint a cross on themselves as a testimony that they are Christians.
The university, it seems, liked the image and spirit the group portrayed because they took a picture of them and used it in a newsletter sent to supporters – except for one small detail. They murdered the painted on crosses by photoshopping them out. When asked about it, the school said they wanted to "prevent other students from being offended."
Obviously, this is nothing really new. Those who adhere to political correctness try to be real careful not to offend anyone based on religion – anyone, of course, except for Christians.
As Christians, we also don't want to go out of our way to offend people just for the sake of offense. But the truth is, the gospel has always been, and will continue to be, an offense to those without Christ. And this is the one place where we can stand up and be proud to be an offense without worrying about it.
As Christians, we need to quit allowing ourselves to be pushed around. Not that we need to be ugly – certainly not! But we can be courageous without being ugly. We can stand strong for our faith without being obnoxious. But to do this, we have to build the kind of knowledge base about our faith which allows us to answer the critics and share a witness with them. A solid foundation regarding worldview will give us the tools we need to pull this off.
Related Articles
Share
About Author
(0) Readers Comments