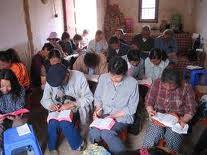 This year there has been a massive crackdown on the House Church movement in China. Even this week, Chinese authorities sentenced Shi Enhao (deputy leader of the Chinese House Church Alliance) to two years of "re-education through labor." The sentence required no trial or conviction. This is in addition to ordering Shi's church to stop meeting for worship and confiscating all church assets.
A Cuban pastor, Omar Gude Perez, has been imprisoned since May 2008. He has recently been granted asylum by the US, but Cuba refuses to allow him permission to leave until his sentence is completed in Cuba.  He was initially imprisoned on bogus charges. Conditions of his conditional freedom prohibit him from pastoral work and preaching.
What do China and Cuba have in common? They are both run by communist governments which are officially atheistic. This does not simply mean that they don't believe in God. It means that they follow a faith position (a Naturalistic worldview) which asserts positively that God doesn't exist – to the point that they officially suppress other faith positions.
The direction American is moving in pop culture, in education, in politics and in its news media are reflective of the mindset that exists in China and Cuba. It is based on a Naturalistic worldview that excludes God.
The importance of understanding this is not simply in being aware so we can cause our nation to follow more Christian principles. Its importance is in something even bigger. God has a plan for mankind that goes beyond the direction of America. Not only America, but the whole world needs to be swept up in a revival movement that brings people into personal relationship with him. This is much easier to do in a free society than in a repressive one.
How important is a Christian worldview? It provides us with a platform to accomplish the purpose of God in the world. This will not happen if all Christians don't become serious about living out their Christian faith.
Related Articles
Share
About Author
(0) Readers Comments