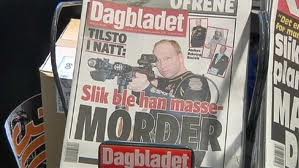 We have all been riveted by the slaughter that recently took place in Norway. Anders Breivik, a supposed right wing Christian, went on a killing spree as a means of fighting against the influx of Muslims into Europe as a whole, and Norway specifically.
I use the word "supposed" in reference to his identification as a Christian because his actions are anything but Christian. There is absolutely nothing Christian about what he has done. His was a political attack using a non-Christian approach cloaked in Christian vocabulary. His worldview reference may be Theism, but it is not Christian Theism. Christ specifically taught against murder.
But that is not the only worldview frame coming out of this. Norway is a highly socialized country which is built on a Naturalistic worldview foundation. Their legal system doesn't see a massacre like this as an act of terror, but as a legal problem caused by a mentally ill person. The reasoning is that this kind of behavior is not normal for any healthy person, so he must be mentally ill. Their penal system is not designed for providing justice. Rather, it exists to promote healing. As such, the maximum penalty he could receive is about 21 years – 100 days for each death.
To illustrate the mindset of Norwegian society, a couple of law professors were interviewed by The Daily Caller and expressed concern that the country's lenient judicial system might get altered because of public outrage from the mass killings. One professor, Thomas Mathiesen said, "Norwegian society will gain nothing from a higher punishment level. People of this kind will not become less prone to engage as this man did … and the punishment level we have now will contribute to Norway staying the relatively humane society that we are proud of and want to live in." Another professor, Nils Christie, said, "I hope, and believe, that we also, this time, will be able to stick to our ideals of moderation in punishment. The preliminary reactions to these days of horror in Norway have been exposure of a strong urge to live up to our basic ideals of remaining an open welfare society based on humanity."
In looking at this from a worldview perspective, we can see that people's worldview has a direct influence on their thinking and the way they live life. Neither of the reactions in this case reflect a Christian worldview. As Christians, we are called on to promote the purpose of God in the world – that is, to bring the world into a personal relationship with God through Jesus Christ. We can't do that by killing Muslims or by ignoring justice. This incident illustrates how critical it is for us, as Christians, to be active in sharing our faith and promoting the kingdom of God. Only as the whole body of Christ does this faithfully is there any possibility that the will of God will be done on earth as it is in heaven.
Related Topics:
Related Articles
Share
About Author
(0) Readers Comments